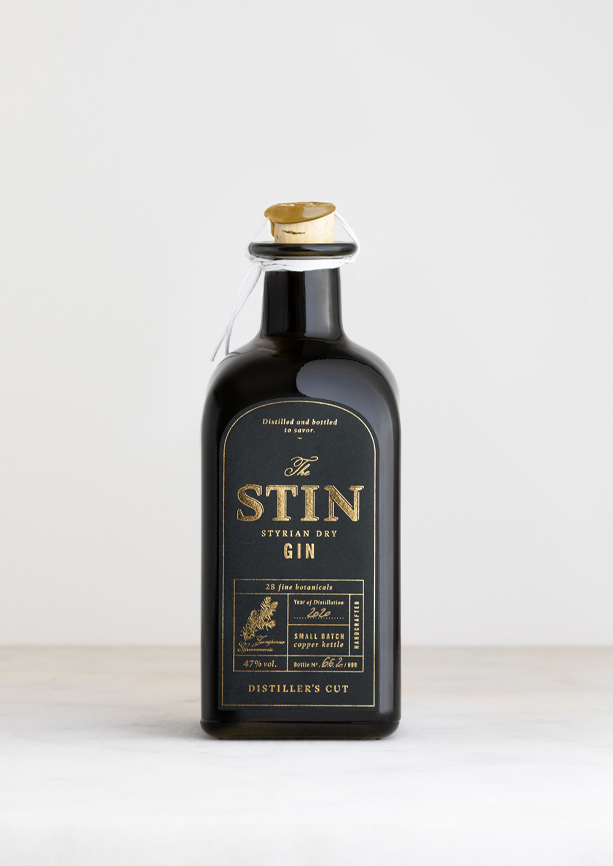 Variety is the spice of life. This is why there are different kinds of STIN. One for staying classy and one for going strong, one for sweet dreams and one for moments you wanna feel special – which you will when tasting our Distiller's Cut. Not just because it comes in a limited edition, but because it's an unusually intensive gin, even more aromatic than the other. The Distiller's Cut is made for a distinguished taste, distinguishing itself through a main ingredient: Pears from our gardens in Southern Styria replace the apples we use otherwise. The rest stays the same: Elderflower from Eastern Styria, juniper, oranges – it's 28 botanicals we distill in a copper kettle and small batches – make for a fine diversity of flavours. The pears add individual notes. In every one of the 999 available bottles, a true limitation. Naturally without limits when it comes to taste.
The Distiller's Cut is delivered in a noble black wooden box with sliding lid.
The best ingredients are not enough for us. This is why we distill STIN in a copper kettle and in small batches. We've always got our hands full but: We also get the highest quality.